, 2022-10-19 14:12:00,
Five years ago, I wrote a Seeking Alpha article titled Cryptocurrency Volatility Lessons in which I showed that although cryptos are characterized by high volatility, the volatility was steadily declining. I also showed that cryptos were weakly correlated with equities, offering a desirable portfolio risk reduction possibility. I conjectured that volatility of cryptos would continue to decline, and that, perhaps in five years, a substantial number of investors would be willing to place 1-5% of their portfolios in crypto assets.
This article provides an updated analysis. Some of the earlier lessons still apply, but there have also been some significant changes. My perspective is basically that of an investor primarily interested in equities, but willing to consider the addition of some crypto to his/her portfolio.
In September 2017, Bitcoin (BTC-USD) and Ethereum (ETH-USD) were ranked one and two in terms of market capitalization of the top 10 cryptocurrencies and represented 76% of the total in the top 10. Over the past five years, the market capitalization has increased more than five-fold, from $153.6 billion in 2017 to $771.5 billion today. As of September 2022, Bitcoin and Ethereum still hold the top two spots and represent 69% of the total. Besides Bitcoin and Ethereum only XRP (XRP-USD) (previously known as Ripple) is still in the top 10 list (see Table 1). Seven currencies have been replaced.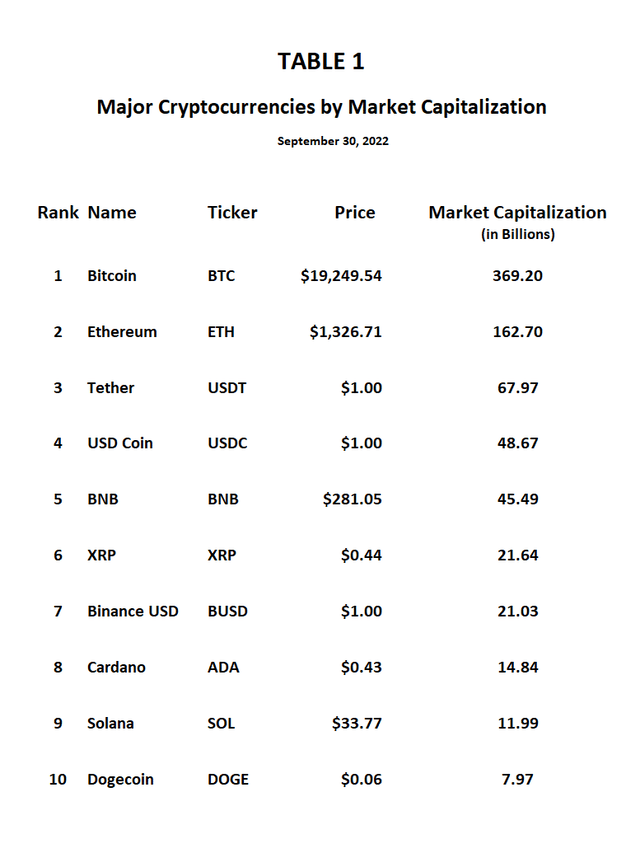 With a market…
,
To read the original article from seekingalpha.com, Click here