, 2023-01-06 18:21:00,
While most of the crypto market has been down pretty big since the collapse of FTX (FTT-USD), there are some coins that have been showing general strength comparatively. No coin with a top 100 market capitalization rank has done better than Toncoin (TON-USD) in the last 60 days. TON is up over 34% in that time period compared to Bitcoin (BTC-USD) and Ethereum (ETH-USD) which are both down about 20% as of publishing.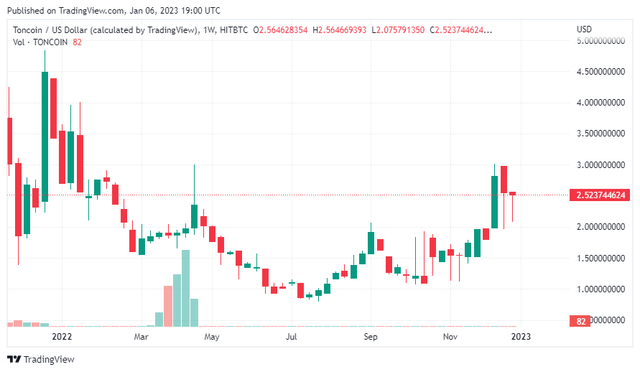 Following the fall of FTX in November, many of the coins that have outperformed the rest of the market since have had a focus on decentralization in some way. Self-custodial wallet tokens like Trust Wallet Token (TWT-USD) and non-custodial DEX dYdX (DYDX-USD) have performed very well. Toncoin is another example of a public blockchain that is marketed as a decentralized network. The rally in TON coupled with the relative underperformance of the rest of the crypto market has propelled TON all the way to a top 25 market capitalization according to CryptoMarketCap.com:
Market Cap Rank: 25
Circulating Market Cap: $2.6 billion
Fully diluted Market Cap: $10.9 billion
Circulating Coin Supply: 24%
Toncoin's History
Toncoin is the native currency of "The Open Network." The Open Network has one of the more bizarre histories of the top public blockchains. The network was originally developed and launched by the founders of Telegram.

One of the key…
,
To read the original article from news.google.com Click here
Private Internet Access gives you unparalleled access to thousands of next-gen servers in over 83 countries and each US state. Your VPN experience will always be fast, smooth, and reliable.